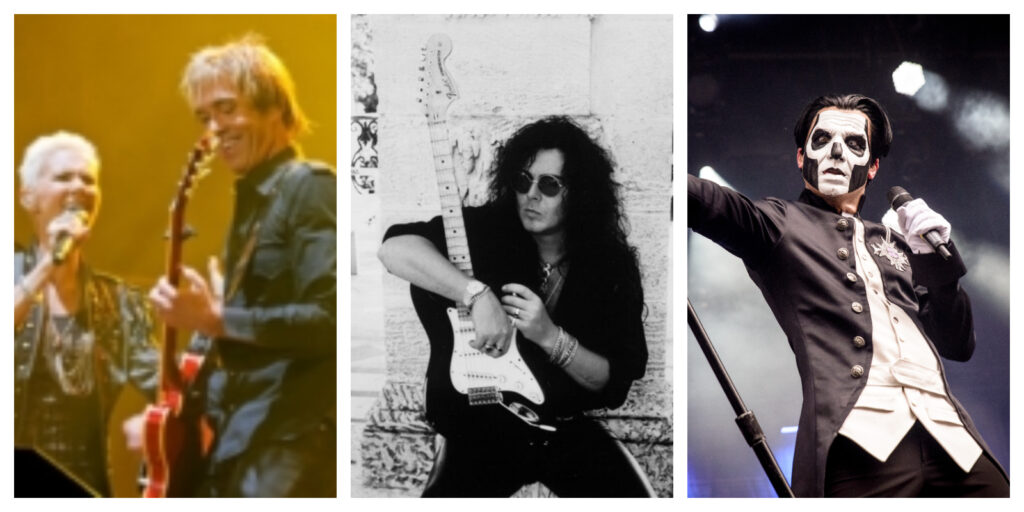 Vilka är de 20 mest spelade svenska rockbanden?
Länge var jag förvissad om att det var Europe som var de populäraste svenska rockarna på Spotify. Men nej. Ghost är 50 procent mer populära än Joey Tempest & Co.
Sabaton och In Flames ligger också bra till med sina 3,1 respektive 2,5 miljoner lyssnare på streamingtjänsten varje månad.
Men störst antal lyssnare har Roxette, tätt följda av Ghost och på trejde platskommer Europe. Per Gessle och Marie Fredriksson är väl inte så jättemycket rock egentligen. Men de katgoriseras ofta som poprock eller rockpop, så ja – de får vara med. Abba går dock bort, de är onekligen pop eller disco.
Här har ni topplistan.
20 i topp. Svenska rockband som sjunger på Engelska. Miljoner spelningar på Spotify per månad. (hämtat 2023 02 25)
1. Roxette 9,7
2. Ghost 9,4
3. Europe 6,3
4 Cardigans 5,4
5. Peter, Bjorn and John 3,4
6. Sabaton 3,1
7. Hives 2,8
8. In Flames 2,5
9. Amaranthe 1,6
10. Amon Amarth 1,4
11. Arch Enemy 1,2
12. Hammerfall 1,2
13. Mando Diao 1,1
14. Opeth 0,8
15. Meshuggah 0,7
16 Soilwork 0,7
17. Dead by April 0,6
18. Katatonia 0,5
19. Yngwie Malmsteen 0,4
20. Takida 0,4
Och som ni ser; gamle Yngwie Malmsteen drar fortfarande till sig rätt mycket lyssnare, vilket uppenbarligen glädjer gitarrsnillet.
And people say "are you relevant?" 😂Going strong 💪🏻 Almost half a million listeners on Spotify alone!Over 2 million listeners per months in total from other channels combined! pic.twitter.com/53BYv56leQ

— Yngwie Malmsteen (@OfficialYJM) February 24, 2023
Men kanske är denna lista hopplöst snedvriden av mina egna rock-preferenser? Jag bad allas vår AI-robot ChatGPT att göra sin bedömning, och jag verkar inte vara helt fel ute jämfört vad folk skriver på nätet.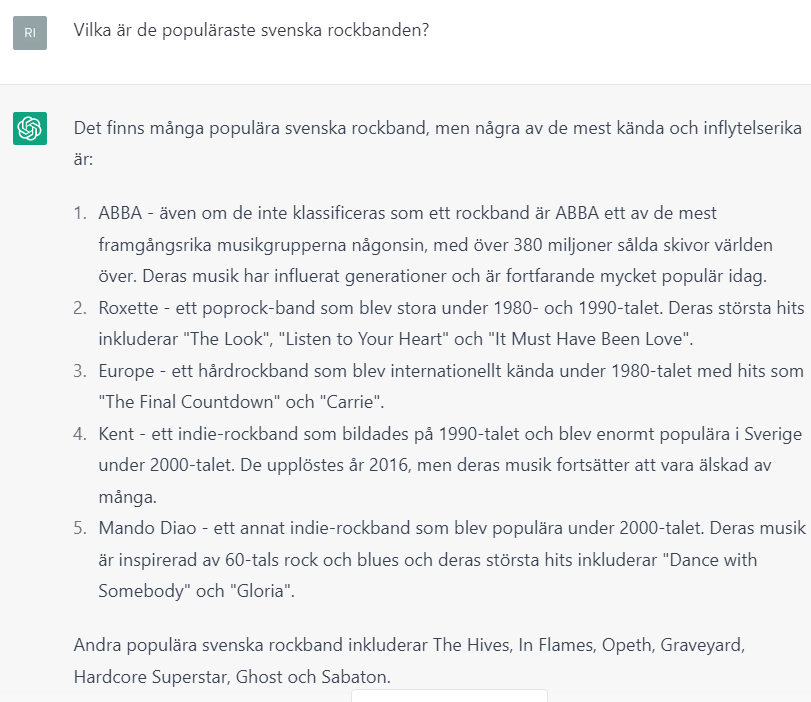 Några band utanför topp 20. Alla har mellan 100 000 och 300 000 lyssnare i månaden: Eclipse, Normandie, Mustasch, Entombed Halo effect, Backyard Babies, Candlemass, Bathory, Graveyard, Scar Symmetry, Hellacopters, Sahara Hotnights, Wannadies, Watain, Dark Tranquillity, Hellacopters, Therion, Hardcore Superstar, At the Gates, Witchcraft, Haunted, The Ark, Treat, Boppers
Uppdatering: Upptäckte juts att Melodifestivalpopulära Smash into Pieces har mycket spelningar just nu – hela 1 miljon i månaden. Imponerande, kul. Men även om de beskrivs som rock och ibland även metal, så jag diskar dem från listan på grund av att siffran troligen boostas tillfälligt av Mello. men vi får se, nästa gång jag uppdaterar listan : )